We've provided the tools you need to continue advocating for the field of anthropology! Here are some suggestions to help you reach out to potential members and encourage them to join AAA: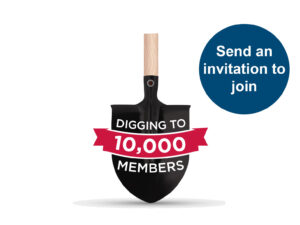 Share your experience with others about how great it is to meet other anthropologists at meetings and conferences, connect with your specialized sections, and have access to all the great reads in AnthroSource and Anthropology News.
Encourage your friends or colleagues to include your name in the "referral box" during the checkout process via Community Hub. Sections and DSP partners can also be submitted in this field.
Email friends and colleagues an invitation to join.
Share a copy or the digital version of Anthropology News (AN), the AAA member magazine.
Let friends and colleagues know about your connection to your section. Many sections have great benefits including meetings and mentoring opportunities.
Tell your friends and colleagues about the immediate connection they will have to your AnthroFriends via the Communities platform.
Share AAA emails including News and Notes, Weekend Reads, and the bi-weekly AnthroSource and Anthropology News highlights.
Send an invitation to your friends to sign-up for Weekend Reads.
Invite a colleague to attend the AAA Annual Meeting or your section's meeting.
Let them test out membership first via a gift membership or K-12 Educator Membership Trial.
Did you know?
Undergraduates are eligible for FREE membership and annual meeting registration under the DSP Undergraduate Cohort Program.
K-12 students are eligible for FREE membership by having someone nominate them for the Junior Anthropologist Award.
Recent MA/MS and PhD graduates are eligible for FREE membership under the DSP New and Recent Graduate program.
American Indian and Alaska Native Enrolled Tribal Citizens are eligible for FREE membership by applying for a waiver.
That members can join for as low as $49/year for graduate students, $50/year for retirees, and $59/year for professionals.
All members must select at least one section to join the AAA. Many sections offer free and deeply-discounted student dues.
AAA includes an additional 5% discount on retiree dues and many sections offer deeply-discounted retiree dues.
Our community members have highlighted their journey to anthropology and to the AAA.
Our community members have highlighted "Why They Joined".
With the power of AAA members, together we can build our community!