Congratulations to the 12 AAA members whose photos were selected as winners of the 2023 AAA Anthropology Photo Contest. Winners will be featured on AAA's social media, website, and annual report. The top 3 winners will also be featured in the Anthropology News print edition. We received more than 180 incredible photographs from anthropologists showcasing their work across the globe, and we're thrilled to share the winners with you.
This year's winners are:
The Monk's Eyes of Wisdom
by Raymond Yin (Collaborator: Gellan Feng)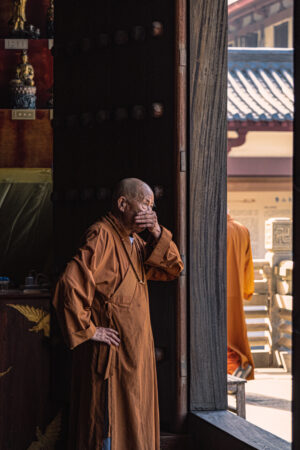 The old monk covered his cheeks and stopped after the morning class at the Xiangshan Monastery, revealing his eyes that contained wisdom beyond the world, as if he had read all the world. This photo was taken after the morning class of the monks of the Xiangshan Monastery in Ningbo, China. This photograph is full of Buddhist elements, including a pillar featuring a Buddhist swastika symbol for auspiciousness and rows of enshrined Buddha statues. The elements represent a religion that has been passed down for thousands of years, indicating that Buddhism continues to be important in regulating the relationship between people and society.
Gordon Barney and Andrew Daylight agentively negotiate the pastoral industry in Western Australia
by Catherine Massola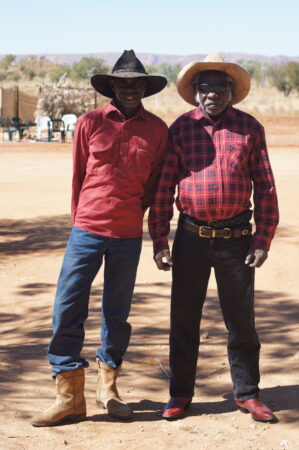 During my fieldwork in 2012, Gordon Barney and Andrew Daylight asked me to photograph their new stockwork clothing. My research explores the complexities of the pastoral industry and its influence on, as well as from, Aboriginal people in Western Australia. Pastoralism developed in the late nineteenth century and disrupted Indigenous lives through indentured labour and loss of land. Aboriginal people adopted various strategies to survive during its expansion. Today, Gordon and his son Andrew help manage their family's station, which has been transformed into a tourist campground. Unremittingly, Gija people negotiate their relationship with pastoralism.
Unveiling pride on Instagram
by Rita Reis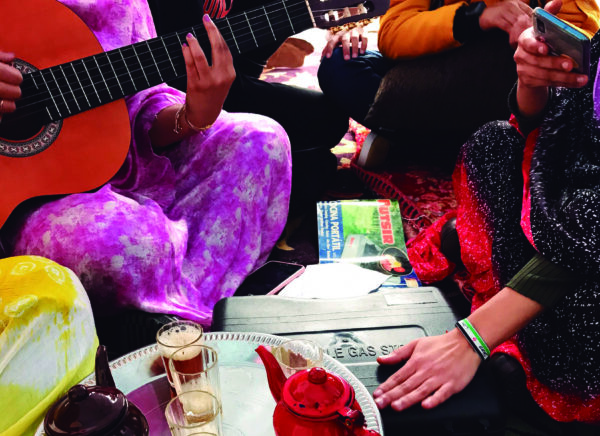 Living abroad on behalf of solidarity protocols, a Sahrawi girl photographs a gathering, framing the Sahrawi Arabic Democratic Republic's flag-adorned bracelet on her wrist, while capturing a tea set and guitar for an Instagram story. This moment showcases the active engagement of Sahrawi youth in the national project of liberation, uniting them to older generations in the pursuit of freedom and self-determination, connecting the refugee camps and the diaspora. Taken in Extremadura, Spain, 2020
Negotiating Space
by Asiyah Kurtz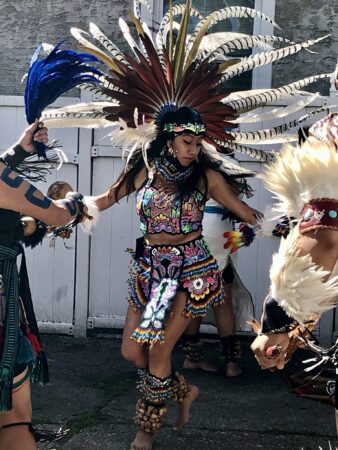 Dancers at a bilingual celebration of the spring equinox, as photographed by applied anthropologist and arts executive Asiyah Kurtz.
Rendezvous with Time
by Artun Cesmeli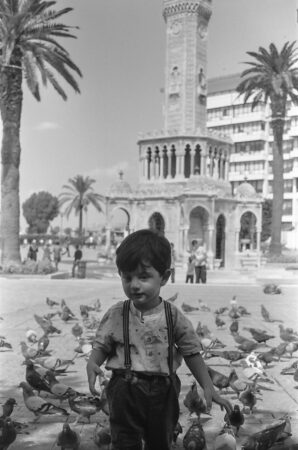 A child playing with pigeons in Konak, Izmir, Turkey. Bounded only by youthful glee, the child seemingly trots through this flock of pigeons in front of the clock tower, which is a symbol of the city and a rendezvous point for many. The tower was built in 1901 by Raymond Charles Péré, a French architect, to commemorate the 25th anniversary of Abdulhamit's reign – the 27th sultan of the Ottoman Empire. Rendezvous, this time brought the child and the pigeons together. While the clock has been counting time for over a century, time seems to be frozen out of respect for the peaceful moment the child is enjoying with the pigeons.
Haitian Hope
by Elsie Oh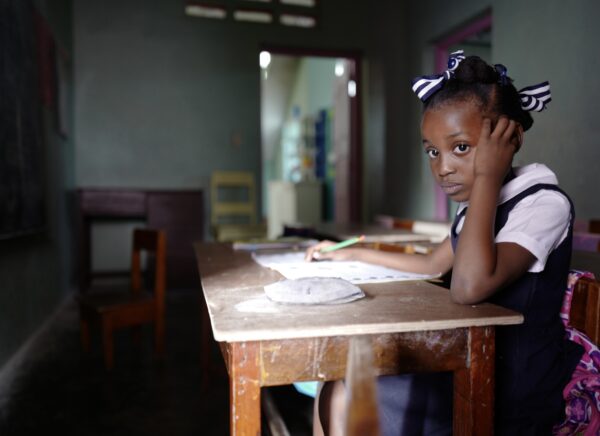 I took this photo when I visited Cap-Haïtien, Haïti in 2018. I visited one local school to observe a class by invitation of one French NGO based in Cap-Haïtien. However, only two girls attended the class that day, and I took this photo when one of the girls was waiting for her teacher. I was volunteering in the Haïtien refugee camp in the Dominican Republic at that time, and I visited here to see what the Haïtien school teaches. Unfortunately, I could not see much of anything since there were no students.
Enfournement
by Morgan Jenatton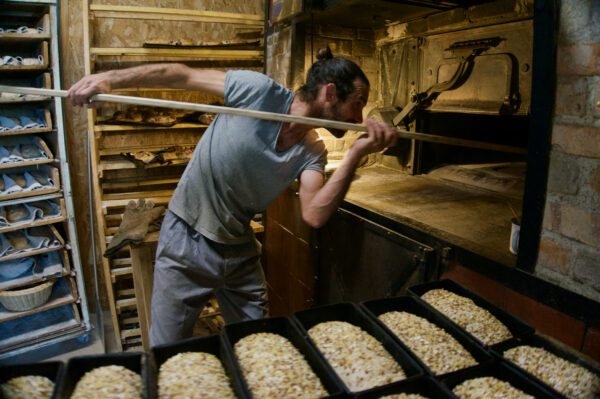 November 2022, Southern Ardèche, France. Over the past 20 years, France has experienced a significant upsurge in interest in certain bygone practices of bread production, which stand notably in contrast to an industrial model that came to dominate in the post-war era and materialized in the nation-wide diffusion of the Parisian baguette. Here, a previously conventional baker has marked a profound rupture with his classic background and training to produce a wholly different kind of bread, made with locally grown and milled flours, living sourdough, and a wood-fired brick oven that he reconstructed from a bakery in a nearby town, abandoned thirty years earlier. This change in practice marks an ontological shift in the relationship to the materiality of bread and requires a process of (re)learning new approaches and techniques. An assemblage of objects, gestures, and climatic conditions enter into an embodied and fleet-footed dance, in which the photographer unwittingly takes part, reflected in the fluid blur of the image as all these elements whirl around the oven in the production of this profoundly emblematic staple food.
Hands of Resilience and Choice: Mending Nets on Sands of Change
by Raquel Maria Mendes Pereira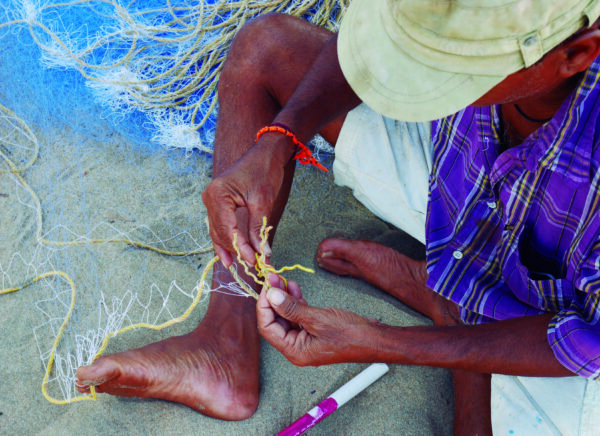 This photo was taken during my PhD field research. The close-up provides a detailed view of one of my interlocutors, a Pagi fisherman, skillfully and attentively mending a net while seated on the golden sands of Agonda beach in South Goa. While factory-made nets are more common, the traditional craft of net mending persists due to economic constraints and personal preferences, influencing community relationships and reflecting social status dynamics.
Fishing nets are increasingly being manufactured in factories, reducing the demand for this intricate skill. However, the craft has not disappeared completely. For those with limited financial means, repairing nets offers a cost-efficient option and a potential source of alternative income when providing these services to others. While factory-made nets are more common, the traditional craft of net mending persists due to economic constraints and personal preferences, influencing community relationships and reflecting social status dynamics.
Smartphone Puja
by Brent Horning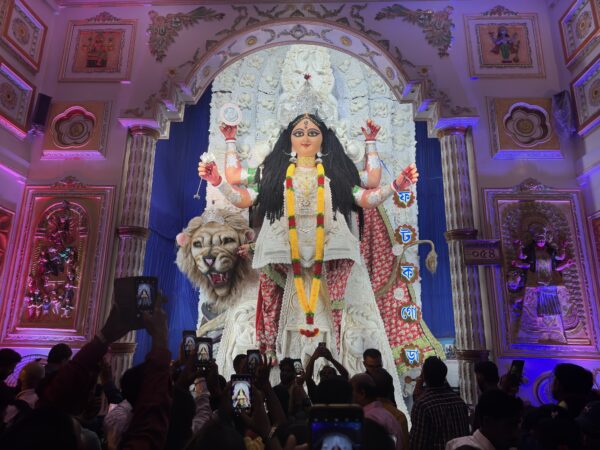 Durga Puja in West Bengal, India, is a recently UNESCO-inscribed Hindu festival. This massive Goddess worshipping celebration is moving towards secularization with increasing emphasis on art and culture rather than religion. Highly skilled artisans craft Goddess statues sought after for photos, which can be considered a sort of neo-worship (puja) as technology meets ancient tradition. As photo documentation for my UC Santa Cruz Anthropology BA honors thesis, "Globalization of the Gaze: Divine and Secular Seeing in the Durga Puja Festival of Kolkata," this photo was taken on October 22, 2022. The research examined intersectional gazes of insiders, outsider, Eastern, Western, human, divine, and technological.
Woman Entrepreneur
by Lynda Anne Williams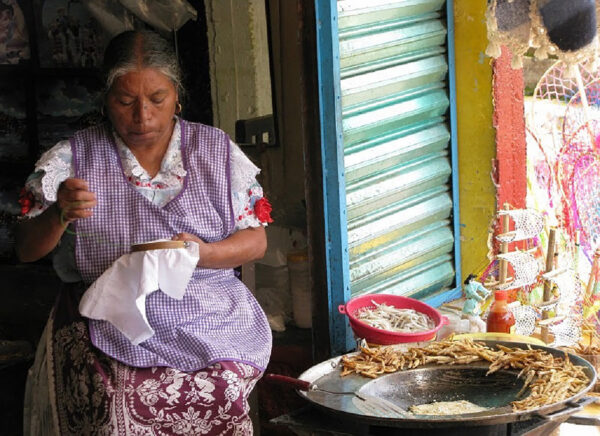 This woman earns her living creating crafts for sale and cooking food for tourists at the same time. She lives in Juanitzio, Michoacán, Mexico.
Living Through the In-Between
by Rachel Tough (Collaborator: Hoang Nguyen Le Thai)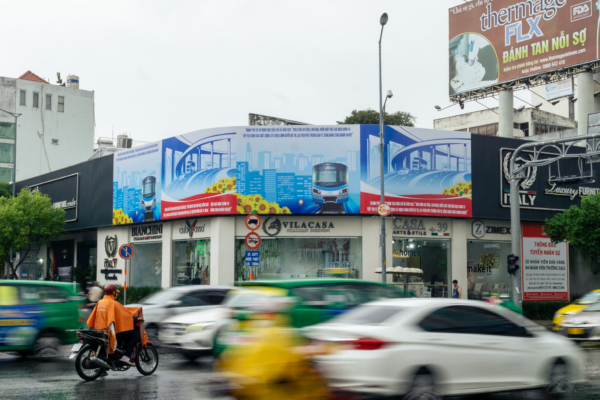 State propaganda in Phu Nhuan district, Ho Chi Minh City, October 2022. This billboard ad evokes the ongoing march to full socialism in Vietnam and the important role of urban development in it. Until full socialism, Vietnamese society remains suspended, theoretically, in a state of revolution. The sign also addresses modernity – symbolized by the metro train and skyscrapers – and the tumult of COVID-19, both further layers of uncertainty in life in the post-pandemic city. The image relates to anthropology's interest in conceptualizing 'in between' situations using the concept of liminality. Photo taken during long-term ethnographic fieldwork on the social dynamics of COVID-19 in Vietnam.
The Grand Entry, at the Gathering of Nations 2022
by Chandler Zausner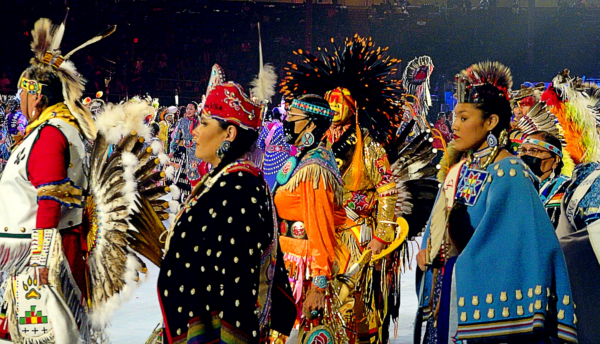 The Grand Entry, at the Gathering of Nations 2022 in Albuquerque, New Mexico, illustrates a range of tribal aesthetic and materiality across a wide geographical and cultural landscape. The interplay of 3,000 dancers in full regalia celebrates a wide range of performative expressions and the exuberant communal acceptance shared across nearly six hundred tribes and tens of thousands of supportive observers. For the past 40 years, Gathering of Nations, the largest pow wow in North America, has celebrated Native American culture and heritage as seventy thousand spectators converge on Albuquerque, New Mexico to celebrate over three thousand dancers, drummers, and singers, representing nearly six hundred indigenous tribes. My fieldwork at this site centered informant interviews, primarily individual stories of generational learning, including challenges of cultural continuity and efforts of revival.